Welcome to the weekend, my little gingersnaps!! I'm so dedicated to you all because it's very painful to type right now, but am I avoiding my weekly review duties due to some pain? No way!  You might wonder WHY I'm in pain.  Well I didn't injure my hand like Jimmy Fallon did.  No I paid someone to hurt me. Let me explain, and I think I can do so by providing you with two pictures…. This happened on Tuesday…  And next Tuesday the other arm will get the same treatment (different breed of cat). 
Dustin Diamond Sentenced To Jail In Barroom Stabbing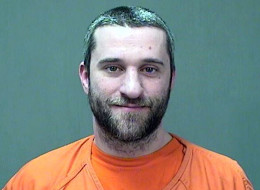 Dustin Diamond, AKA "SCREECH" from Saved By The Bell was arrested for a bar fight that took place in Wisconsin on Christmas Day.  He apparently "accidentally" stabbed someone with the concealed weapon (knife) that he wasn't supposed to have. Oh Screech, after all the delinquent taxes, foreclosures, sex tape, etc., I really had such hopes for you to clean up your act.  No, not really. 
PORT WASHINGTON, Wis. (AP) — Dustin Diamond, who played Screech on the 1990s TV show "Saved by the Bell," was sentenced Thursday to 4 months in jail for a stabbing in a Wisconsin bar.
Judge Paul Malloy also sentenced Diamond to 15 months' probation and ordered him to report to jail Sunday. Diamond was convicted earlier this month on two misdemeanor counts that stemmed from a Christmas Day barroom fight.
Diamond, appearing misty-eyed, left the courtroom without commenting.
The 38-year-old actor was cleared of a felony charge last month after a three-day jury trial. The jury found him guilty of carrying a concealed weapon and disorderly conduct.
Malloy said the sentence "has to send a message to the community that we're just not going to live like this."
The actor told jurors that he took out a knife that day to try to ward off people, including a woman who punched his girlfriend. He said he then accidentally stabbed a man during an altercation.
"I sincerely apologize to everyone involved," Diamond said at the hearing Thursday. "This was the single most terrifying experience of my life … This is all I've been able to think about for the last six months."
Witnesses testified that Diamond's girlfriend, Amanda Schutz, pushed one woman at the bar and grabbed another woman's hand, initiating the bar fight. Schutz was also convicted of disorderly conduct last month and Malloy fined her $500.
Ozaukee County District Attorney Adam Gerol said during the trial that Diamond lied about what happened and that the actor had scripted his testimony.
Gerol showed body-camera footage of Diamond's testimony to a Port Washington police officer the night of the fight. In the video, Diamond first said he might have struck the man with a pen. In a video of testimony later that night, Diamond said he had a knife at the bar, but hadn't used it to stab anyone.
Port Washington is 25 miles north of Milwaukee.
Since his role on the popular 1990s TV show about Bayside High School students, Diamond has been sued several times for delinquent taxes and in foreclosure proceedings for missing mortgage payments. He has appeared on reality TV shows, made a sex tape and most recently produced a tell-all documentary on Lifetime TV called "The Unauthorized Saved by the Bell Story."
Source: HuffingtonPost
Is Michael Jackson Moonwalking In The Clouds 6 Years After His Death?
I can tell you the answer to this question right now. No, it's not Michael Jackson moonwalking in the clouds. It's Jesus moonwalking in the clouds. Everyone knows it's always Jesus. Whether it be on a pancake, chip, door, bird poop, it's JESUS. And if Jesus decides to moonwalk in the clouds, who am I to say otherwise? 
A recent storm over Goochland County, Virginia, has turned out to be a "Thriller" for the entire Internet.
6 years after Michael Jackson's death on June 25, 2009, WTVR CBS 6 News is reporting photographer John Plashal may have captured MJ's triumphant return. Plashal was apparently just submitting pictures of a June 23 storm to the CBS 6 Facebook page and didn't know what he had until it started blowing up. Now, the image that many believe looks like the King of Pop moonwalking has "gone international," according to Plashal.
The fact that the photo happened so close to the anniversary of Jackson's death seems too good to be true, but it has reportedly not been tampered with.
If the photo was altered, it could be devastating to fans. Following the pop star's death, everyone became excited when a video on "Larry King Live" appeared to show Jackson's ghost, but that was later proven false.
In defense of this image, however, moonwalking across the sky does seem like a very MJ thing to do.
So are we just getting our hopes up? Or could this actually be Jackson in the clouds? If it is, we can only hope upcoming summer storms bring some encore MJ performances ahead.
H/T CBS 6, WTVR-TV
Source: Amazon
Any fans of Hozier's song "Take Me to Church"?  Here's a link to the lyrics in case you're curious. (lyrics)  Well, here's a clip of him playing his song in Paris, when he was surprised by a gospel choir in the audience that accompanied him on the song. It's absolutely amazing, and Hozier's response during and after is totally what makes this clip so awesome. 
Source: YouTube
So saying you have an annoying neighbor who would do something like this to photo bomb your family portrait, WHY would you have this annoying neighbor over while you are taking a family photo???!
Source: AwkwardFamilyPhotos
This week's FAIL goes to the police officer who gets stuck in his own police car window, trying to get out of it. 
[vine id="e52Ki9hzv1e"]
Source: Vine
These Cross Stitch Tattoos Will Make You Clean Out Your Savings and Book a Flight to Turkey
The latest trend in tattoos are ones that look like they were cross-stitched on, and I have to say I approve of this trend. They look pretty cool to me. So what do YOU GUYS think? Would you get one?
Turkish tattoo artist Eva Krbdk has found her niche in the permanent picture world with these delightfully charming takes on popular images.
Working for Daft Art Tattoo, Krbdk has combined her love of tattooing and cross stitch, creating body art that these people will (hopefully) never regret.
Source: Cheezburger
And that's all the time I have for today, my little gingersnaps.  Meet me back here, same time, same place and until next week, don't do anything I would do.  Oh and one last thing…