Well hello my little gingersnaps! Did you enjoy last week's Star Wars Edition? If you read it earlier in the day, you might have missed the *UPDATE* I added at the bottom, when a friend pointed out that the footage of Jamie and I dressed as Slave Leia and Jabba the Hutt did NOT hit the cutting room floor and was in fact featured on CNN! If you missed it, you can just hop back to that post and scroll to the bottom for a screenshot and link to the video.  It's like I'm famous, yet no one who saw the video knows what I look like! *insert Jabba laugh here*
Now, let's move on to the celebrity/not-really-a-celebrity news…
"Mama June", the mother of "Honey Boo Boo" and "star" of "Here Comes Honey Boo Boo" (am I using too many quotes?) wants the world to know she is bisexual. Whew. I know I for one am glad she feels the need to tell us her sexual preferences.  *shakes head no*  "Mama June" told the world she gave the boot to "Sugar Bear" after catching him trolling internet dating sites, then went on to date a Pedophile who was just released from jail after serving a sentence for molesting her own daughter. She says she's trying to work things out with Sugar Bear but wants us to know if that doesn't work out, it's "Open Season for ALL", both men and women. So if you're the type who is attracted to the type of woman who would date the man who molested her daughter… Uh, WHY DOES THIS WOMAN STILL HAVE HER KIDS???  No really, I really want to know.
 Source: TMZ
In other celebrity news, Bruce Jenner was interviewed by Diane Sawyer and announced to the world that he is really a woman and discussed his struggle to get to the place where he can admit that publicly.  The news has been flooded by accounts of support from his kids, especially Kendall and Kylie Jenner, who released a statement supporting their dad.  During the interview Bruce admits that "Kendall and Kylie caught him cross-dressing via a spy cam on their computer when he went into one of their rooms to use a full-length mirror."  Wait, WHAT. THE. HELL?!  Why would they have a spy cam on the computer in their room? Who does that?! And more importantly, Why is there no full length mirror in the Master Bedroom? Inconceivable!
Source: JustJared
Okay, so… Tamah tried to bust her baby daddy out of prison, but was caught. She was not prosecuted for this (WHY??) but felt her civil rights were violated when she was caught, detained and questioned by police. So she filed a civil rights lawsuit. Then the U.S. District Judge threw out her lawsuit. So this self-described "Floridian-American" filed a notice to "F*ck This Court".  In fact the brief opens with, "F*ck This Court and Everything That It Stands For."
First, I did not know you could file a notice to "F*ck a Court".  Secondly, who is this lady's lawyer? And last but not least, this Floridian-American is not sure what to make of her identification as a Floridian-American. I mean, we Floridians do kind of rule the weird news headlines. I don't live there anymore cause you know, bugs and sh*t (And by "sh*t", I mean humidity) but I've always been proud to call myself a Native Floridian. We're a different breed. We are, after all, America's Wang.  I'll just have to start using more politically correct language and start calling myself a Floridian-American. Can't keep saying Native Floridian because the Seminoles were there before I was. (Go Noles!)
Oh, and Tamah? I think you need a doctor, because something isn't right in your head.
Are you wearing Princess Leia buns???
'Floridian-American' Woman Files Notice To 'F*ck This Court'
At least take the court to dinner first.
Self-described "Floridian-American" Tamah Jada Clark filed an expletive-laced legal brief lambasting U.S. District Judge Willis B. Hunt on April 20 for dismissing her civil rights lawsuit.
(Readers should note that this article contains explicit language.)
The brief, embedded below, opens with "F*ck This Court and Everything That It Stands For."
Clark's brief comes in response to Hunt's dismissal of a civil lawsuit she filed in response to her 2010 arrest, Mediaite notes. Clark was charged with trying to break her child's father out of a Gwinnett County, Georgia prison, the Associated Press reported at the time.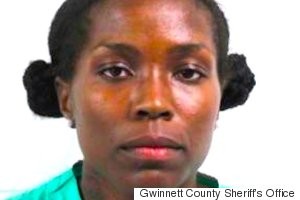 Tamah Jada Clark
Clark was never prosecuted, Vice reports, and she responded with a suit claiming her rights had been violated when she was detained and questioned by police.
Hunt dismissed the case on the grounds that Clark's co-plaintiff, Jason Joseph Clark, whom Tamah Clark identifies as her husband, did not sign the complaint.
In her brief Clark contends that the judge "end[s] your f*ckery by stating that the case is dismissed for good cause shown, and in the absence of opposition; however, you have not shown any good or legally valid cause–and you know it."
Clark's impassioned argument for states' rights is riddled with such outbursts, as seen in the brief below.
Source: HuffingtonPost
No. Just no. That's a HAIL NO. Why? Whyyyyyyyyyyyyyyyyyy?
Source: breakmyriff 
This ensures that the child's memories of "riding daddy" will forever haunt them whenever a certain intimate position is mentioned.
 Source: humorsharing
Who needs a selfie stick, when you can get THIS?!!!
 Source: LaughingSquid
And that's all the time I have for today, my little gingersnaps.  See if you can come up with a better cell phone holder than that!  Until next Saturday, I leave you with this fact…
Follow Ginger on Twitter (@GSnaps)