Target Nurse In!
It was brought to my attention that there is a nation-wide "nurse-in" December 28th 10:00AM at all Targets.
This is why it was organized:
Recently a mother was nursing her baby in a local Houston area Target. When she was asked to move to a private location, she refused, and was harassed and humiliated by three separate employees. She then called Target's corporate customer service number and was told by a representative, and then her supervisor that they were aware of the laws, but that just because something is lawful doesn't mean its acceptable in their store.
I really don't understand why anyone would want to pick a fight with a lactating woman. Don't they know what happens to their hormones? Do they not understand that these woman have super human strength to lift cars their babies are trapped under, or fight off multiple attackers threatening their children? If you mess with their baby's livelihood (aka their food source) you mess with them….and every other hormone crazed breast feeder takes it as a personal attack (Yes, I'm referring to myself)….
I secretly have been wanting to participate in a nurse-in for years….Here is my big chance
I told my husband to wait for my bail call on the 28th. It may get wild. I picture breasts flailing, milk squirting, babies in the ergo carriers with mini handcuffs…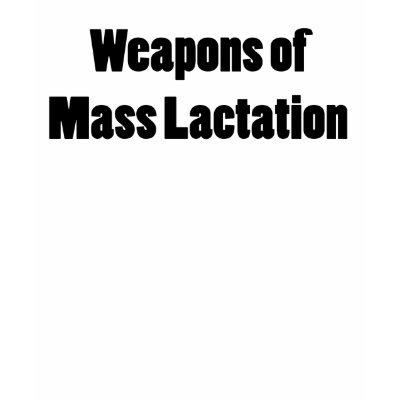 It would not be the first time breast milk was used as a weapon.
Go here for more information about the Target Nurse-In.