I completed the first of my Pre-30 Bucket List! #13, learn how to make Monti.
Monti, is an Armenian dish I LOVE. When my mom first made it for Brian he went crazy. It is now his favorite food of all time, and he's not the only one.
I've been around my mom making Monti since I could remember, but this time I was actually going to learn and be able to replicate it at home.
Apparently, true Armenian Monti uses lamb which I am a fan of, but my mom is not. That is why we always have used beef. She also adds Garlic into the meat.
Although, completely good on their own…..
We serve it in a bowl with hot water, garlic yogurt, and topped with slowly grilled "crispy" onions.
I would have taken a picture, but we ate them all before I could get my camera out- So here is a picture I took from another blogger with a different recipe(looks like she's also an adoptive mommy):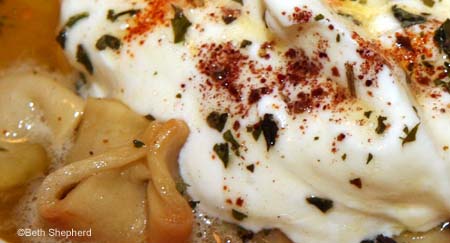 Recipe for Monti from written by my mom:
Mama's Monti:  From a Scandinavian Mama!  They can blame it on that!  The ingredients are for 1 batch, however when I make it for you all I make it X4
Ingredients:  Single Batch=  About enough to fill 1 cookie sheet
Dough:
1 Egg
1/3 Cup Water
1/8 Teaspoon Salt
2 Tablespoons Melted Butter
1 1/2 Cups plus 2 Tablespoons All purpose Flour
Filling:
1/2 Pound Ground Beef  (It's customary to use Lamb, but you all love the beef)
1 Onion, chopped very fine
1/4 cup or so, finely chopped Parsley
1 or 2 cloves of minced Garlic
1/2 Teaspoon Salt
1/8 Teaspoon ground P
 Salted Butter, melted  Used to drizzle on just before putting in oven…2 to 4 Tablespoons  (I use more, the Scandinavian thing again!)  And, to answer what you're thinking,  my cholesterol is low!
Yogurt Sauce:
2 Cups (at least) of plain Greek Yogurt (We like the Fage Brand)
1 or 2 cloves of minced Garlic
1/4 Teaspoon Salt, or more to your liking….we use more, of course
Broth:
I have never used the broth recipe, but some people use the following:
3 Cans of Beef Broth (or Homemade), or Chicken Broth
a Couple Tablespoons of Catsup
a Couple of shakes of Tabasco Sauce
To Make Dough:
In a food processor, combine Egg, Water, Salt, and Butter. Process until mixed.
Add Flour and process until mixture forms a ball.  If it's too sticky, add a bit more Flour.
Turn dough out on a lightly floured board and knead a bit until dough is smooth and elastic. About a minute.  Cover dough with plastic wrap and let rest while you are making filling.
To Make Filling:
Combine Ground Beef, Onion, Parsely, Garlic,  Salt and Pepper.  Mix until well-blended.
To Make Yogurt Sauce:
Combine ingredients and refrigerate until serving time.
Set Oven to 375 Degrees
Prepare Pan.  Spread a light coating of butter on pan
Now it's time to work!  

(First of all picture the end result in your mind so you see where we're going with this.
They look like a little fat canoe with a ball of meat in it.)
On a lightly floured board, roll out half the dough at a time to form a 9 inch square about 1/8 inch thick.  Cut dough into 1 1/2 inch squares.
Note:  I just roll out some dough to the right thickness as long as you get little squares to fill.
I take a baby spoon and fill about 1/2 Teaspoon of filling on each square.  Then pinch two opposite ends tightly.. It now should look like a little boat with the meat inside.  As each Monti is formed, put it meat side up in the prepared pan.  You can put them fairly close together, as long as they aren't touching.
Ok, now you can leave this part out, but it's not going to taste as good as mine!….Drizzle the melted butter over the Monti!.
Bake them on the middle rack in the oven for about 35 minutes.  I check them about 25 minutes   The dough should be browning, but don't let the bottoms start burning.  Cool  on the pan.
To Serve:
Boil some water in a pan with a little salt.
Put as many of the Monti "boats" in a bowl.
Poor some boiling water in bowl over Monti.
I like it with less water and lots of Yogurt Sauce on Top
Daddy likes more water with Yogurt Sauce mixed together, then adds the Monti
That's it!  Oh no I almost forgot the best thing of all. The Onion Garnish!   Take 1 chopped yellow onion and slowly cook in a saute pan in……butter!  It takes some time so start this early in the preparation of the Monte.  Cook it until it is carmelized and nice and brown a little crispy.  This is the "garnish" you put on top of the Yogurt Sauce  mmmmm
So I do this Times 4 for my family.  It takes me hours to do that much.  If one family gets me to make it a the other daughters' family finds out it's a Monti war.
Note: The Monti Boats freeze great.